Avian Ambassadors
Flights of Education
---
16th Annual Raptor Handling Class
August 10/11, 2019
Saturday & Sunday from 9am to 4pm
We are pleased to announce the dates for this two day, hands-on class. The class covers basic equipment use, handling, and a thorough introduction to the science of behavior change and its ethical application to bird training.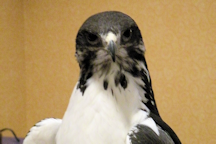 The class is presented by Avian Ambassadors' founder and owner Sid Price. Sid is also the chairman of the International Avian Trainers Certification Board (IATCB) and a past president of the International Association of Avian Trainers and Educators (IAATE).
The cost of the class is $145.00, it covers the two days of instruction, a light lunch on each day, and a printed handbook for attendees to take away for future reference. The class is to be held at the Albuquerque Marriott Hotel in Uptown Albuquerque, New Mexico. The hotel is offering a special rate for attendees.
---
This site and all content is the copyright (2003 - 2018) of Sid Price, unless otherwise explicitly stated.